It's Easy To Get Started, Donate Now!
You Really Make a Difference in people's lives!
Welcome to the nicest national 501-C-3 NON-PROFIT boat donation center in the USA. Our charity workers are on hand six days a week to answer all your questions. We accept boats and yachts from all across America. We are very selective about the causes that we serve. We also allow our donors to designate other causes and charities that benefit from their yacht, boat or jet ski donation. Your boat donation enables us to produce life-changing values-based children's books & animations as well as uplifting media for teenagers. When you Donate a Boat, YOU REALLY MAKE a Difference in people's lives!
Fast, Friendly, and Professional
We know that transferring a boat is a difficult process. We have years of experience and have successfully processed thousands of donations. Because of the generosity of our many boat donors we have been able to fund our children's outreaches worldwide! Please fill out our Online Form or Call Us at 800-227-2643. Along with our Donation Package we will also send you a sample of one of our many children's programs. Thank you, the Boat Angel Team.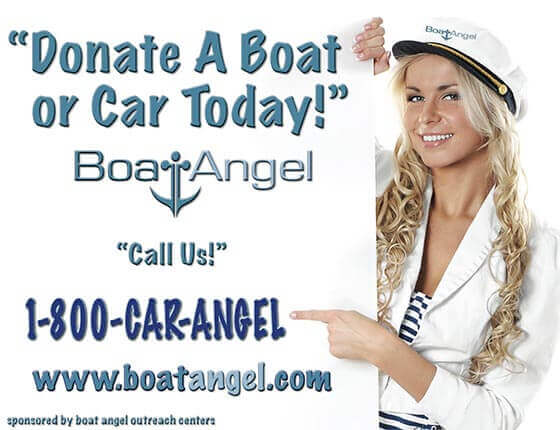 Get tax savings while helping others! Receive a tax deduction and change a life!
Let Us Help You!
Please give your boat even if it is not in running condition. We make all the arrangements to pick-up your boat, yacht or vessel at no cost to you.
You can receive the full fair market value as a lawful IRS tax deduction for your boat ... Donate a boat today!.
Get free boat pick-up,
Get free boat pick-up, whether she runs or not (restrictions apply)! Avoid all the headaches of selling a used boat -- there are no expensive want ads, no taking phone calls, no showing the boat, no price haggling...
Immediate Free Wonderful Service: We will arrange to pick-up your boat donations anywhere in the United States now. We supply you with the necessary legal paperwork so you can claim your tax deductible charitable vehicle donation.
Call us free-of-charge on 1.800.227.2643
or Our DIRECT PICKUP LINE 1.602.903.4449
How to Donate your boat in 50 seconds or less!
To complete the process of donating a boat make sure to print your receipt.
God's promise for our web site and organization, "And the LORD shall make thee the head, and not the tail; and thou shalt be above only, and thou shalt not be beneath."
Recent Comments
"Very nice and understanding, a great organization."
"Easy transaction. I would use them again."
"Fast, friendly - a great team."
"They provide clear, detailed information."
"Excellent charitable foundation to deal with, very helpful."
"Easy to reach, fast to respond, professional."
"No hassle, good communication."
You can Donate Your Boat or Yacht
The following states have benefited from programs and projects sponsored by Boat Angel Outreach Center you can click any one of them and donate: